Dear players,
We are pleased to announce that the third round of Fast Forward – our 4x speed
event – is coming up!
After the incredible popularity of the first two rounds as well as quite a few requests for Fast Forward's return, we have decided on 29th and 31st July! The following Fast Forward game worlds will start on these two dates: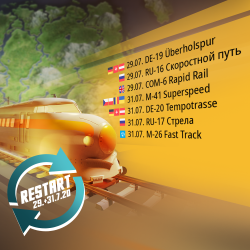 For those of you who want to take part in Masters this year, no worries! Fast Forward will end shortly before this event begins.
During the first two rounds of Fast Forward, we recognised that the balancing only partially matches the high-speed setting.
As a result, we took the opportunity to improve and adjust some calculations for Fast Forward.
The prestige a player receives for city goods was weighted too heavily. Therefore, we have decreased the city prestige by 12.5%.
There was too much money in the game recently, which disrupted the economic cycle. To increase the scarcity of money as a resource, we lowered the base price for delivered goods by 12.5%. This applies to city and supply deliveries. The income for collected trainspotters is reduced by the same amount.
For the login bonus, the time to the mega bonus is decreased from 14 to 12 days. Since one round of Fast Forward lasts 24 days, all players will have the chance to get the mega bonus twice.
We hope you have lots of fun in the third round of Fast Forward,
Your Rail Nation Team
PS: Masters 3 Allstars starts on 28. August 2020. You need two stars to take part in the biggest competition of the year.
Don't have two stars yet? Finish a round of Fast Forward in the top 100 and obtain your ticket to Masters 3 Allstars