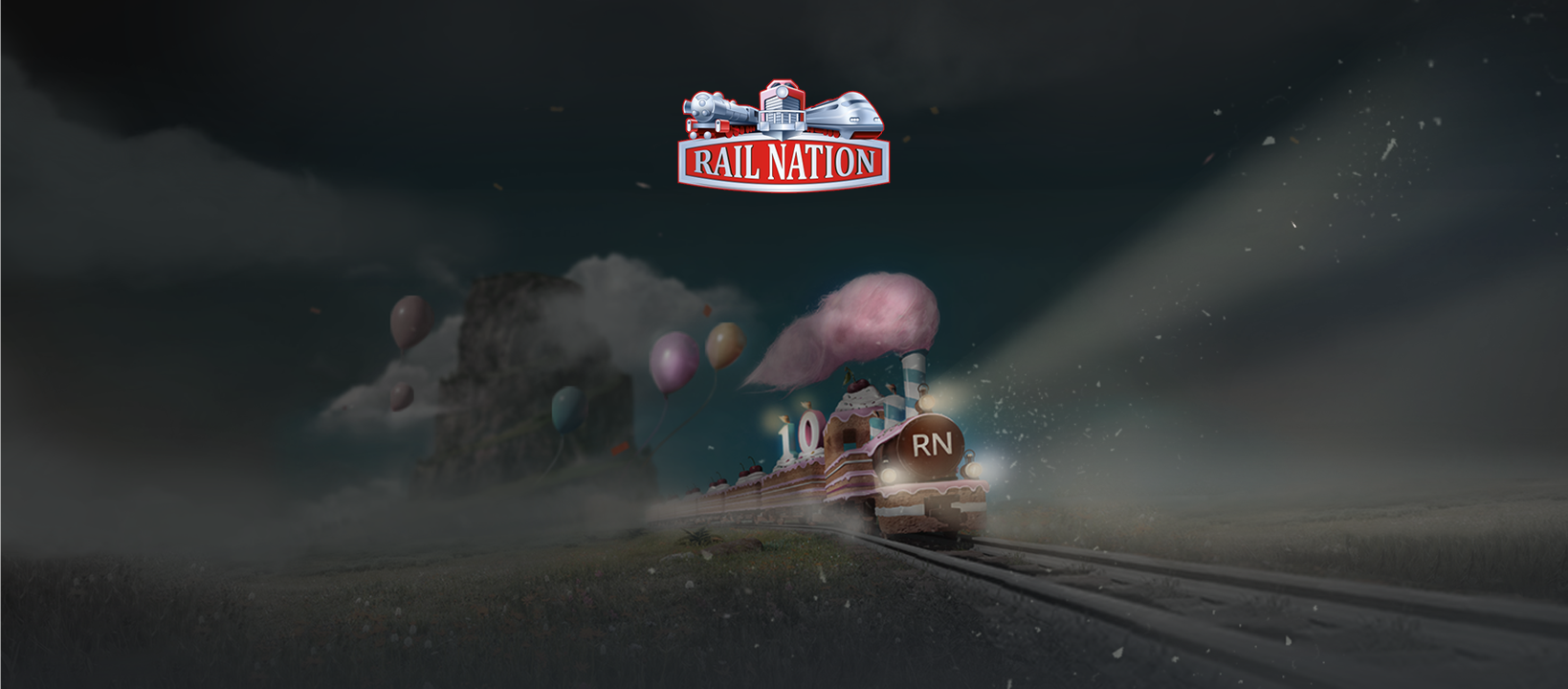 Dear players,
Are you ready to celebrate Rail Nation's 10th birthday with us in the Birthday Special scenario?
Yes, you read it right – a birthday game scenario will open soon! So, spread the word, gather your friends and prepare to experience an amazing journey in an express game world (2x speed), travelling through the Classic map. Choose your gameworld wisely, as you can only register on one of the following game worlds:
9th February at 14:00 CET: DE701 Schwarzwälder-Kirsch, RU701 Medovik
10th February at 14:00 CET: EN701 Battenburg Cake
11th February at 14:00 CET: DE702 Donauwelle, INT701 Cheesecake
Grab your ticket and hop aboard, because the 10th birthday of Rail Nation is a journey you won't want to miss!
Prepare for an amazing party
Our party has a dress code! Try on the new 2023 birthday outfit and enjoy the new fancy hairstyle to go along with it. The Birthday Special brings intriguing feature adjustments for a brand-new experience on the tracks.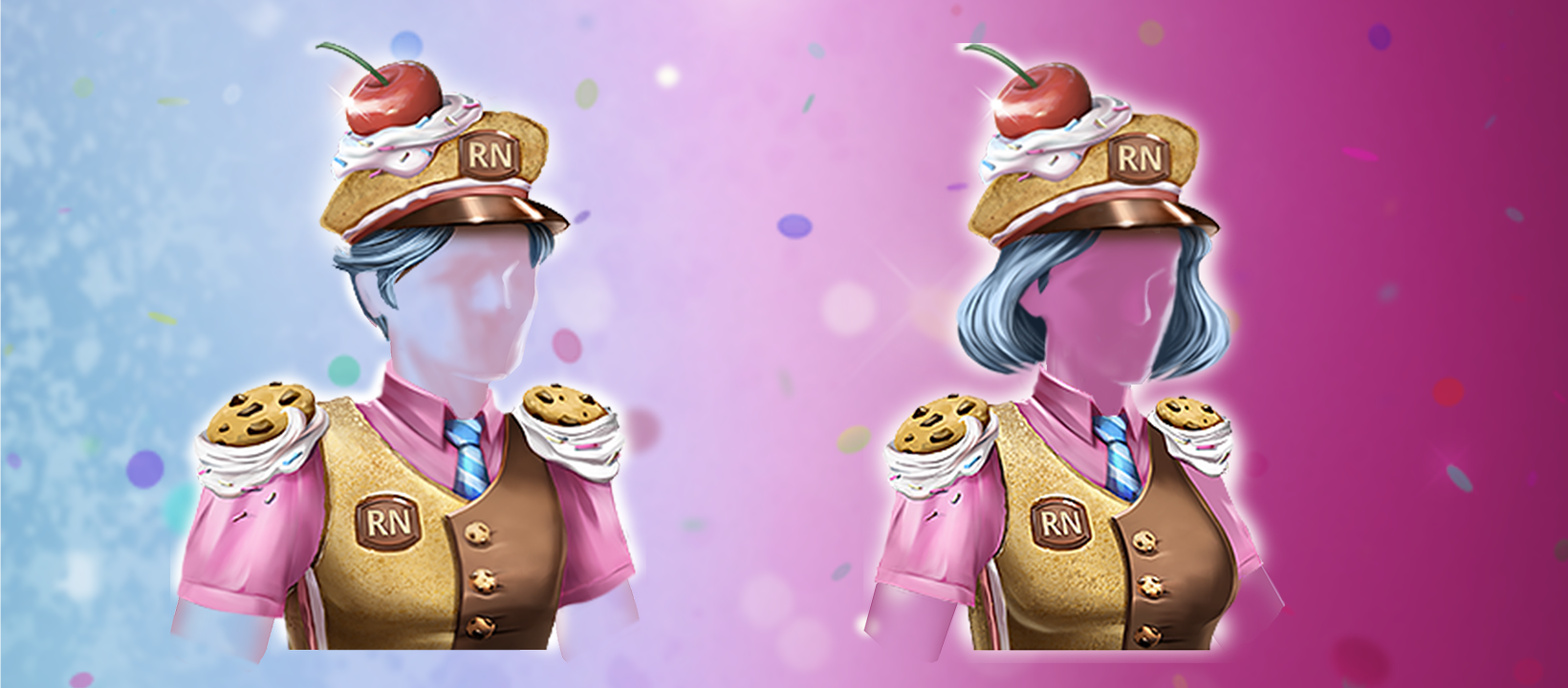 Birthday Special features
– All associations start the round with 25 member slots.
– Players who select the recommended city during avatar creation will receive 200 Gold (double reward compared to normal game worlds).
– All players start the round with 1,000 free Gold, and buying Gold directly is not possible. Instead, seven separate bundles will be available in the Gold Shop on the browser version only: one bundle per each era and one in the endgame. Each bundle has three different offers that contain the Plus Account, bonus engines and vouchers, from which you can purchase only one offer per bundle at a time.
– You can enjoy the birthday-themed production series (skin) for the "Red Kite» train and the anniversary avatar items, given to all players as a gift. All you have to do is create your avatar on any of the Birthday Special game worlds and play there.
– Get free gifts as you play! You can receive a random gift for random game actions such as: collecting trainspotters, buying or servicing trains, investing in industries, using your research points, placing auction bids, upgrading trains, using boosts, watching videos, etc. The rewards include different sums of Gold (up to 100 Gold), the Plus Account or a voucher to fill up your research points. You can win a maximum of 10 gifts per day and keep track of your gifts in the overview menu. Sitters can collect the random birthday gifts for the players they sit for, and the presents are added to the avatar subject to sitting.
– We are introducing the «Fill up bank account» voucher that will allow you to fill up your bank account to the actual limit. This voucher is a possible birthday gift, and it's also part of the «Deluxe» offers in the bundles from the Gold Shop.
– The «Power Bonus» voucher can now be won by watching the second video in the train station.
– The rewards for trainspotters are higher now, and you have a greater chance of getting a free lottery ticket from collecting building bonuses in the train station. Moreover, the chance to win better prizes from the login bonus is now also higher.
– We have increased the probability of winning certain prizes in the lottery and certain rewards in the player competitions (not applicable to city competitions).
– Bonus engines of previous eras can now be purchased at a cheaper price in the Gold Shop.
– New career achievements are now available for reaching the following prestige thresholds on a Birthday Special game world:
10,000
25,000
50,000
100,000
250,000
500,000
750,000
Round winner
FAQs
Q: Can I buy Gold or packages in the Birthday Special scenario?
A: The regular Gold purchase options and packages are deactivated. Instead, you can purchase seven bundles (one per era + one in the endgame). Every bundle consists of three different offers that contain a Plus Account, bonus engines and vouchers, from which you can choose and purchase only one offer.
Q: Can I pre-register on the Birthday Special game worlds?
A: Yes. Pre-registration is possible 24 hours prior to the start of a game world.
Q: Can I transfer Gold to and from the Birthday Special scenario?
A: No, the Gold transfer feature is completely deactivated. The content of any bundles you purchase will expire at the end of the Birthday Special game round.
Q: Is it possible to use the «invite a friend» feature?
A: No, this feature is deactivated.
Q: How many players can play on a Birthday Special game world?
A: There's a registration cap of 4,000 players, so it is recommended to use pre-registration to make sure you secure your spot. You can still join once the game world is live, if the cap registration has not been reached. Remember, you can only join one game world.